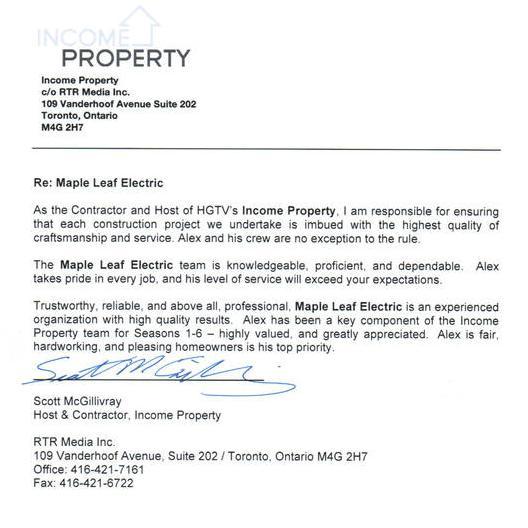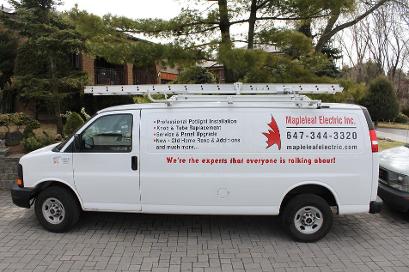 Plugs and Hookups (all types)

ESA defection notice correction

New / old home renovation and additions

Custom homes

Home Automation / Smart Homes

Troubleshooting faulty circuits

Lighting Installation and Repairs

Chandelier and Ceiling Fan installations

Dimmers and Motion Sensors

Telephone / Data / Cable TV

Smoke / Carbon Monoxide Alarms
Phone: 647-344-3320
Email: mapleleafelectric@gmail.com
Why choose us
Mapleleaf Electric Inc is privately owned and operated from our present location in Toronto, Ontario. The name "Mapleleaf Electric" is Trademarked in Canada, which gives us the exclusive legal right to the name in Canada.
The vision of Mapleleaf Electric ™ is to provide quality electrical solutions to any home regardless of shape or size, by adding character and value to your home. As a company, we have many years of experience in residential electrical services. We have earned the respect as a service company that responds to all requests, big and small, with the same commitment to get the job done right the first time. We are committed to long-term relationships with our clients; they stay because of the value and service we provide. Nothing is more important than knowing our employees treat every client and their homes with courtesy and respect.
We will provide contract pricing or time and material rates upon request. We realize that the growth and success of our company is the product of our quality work and continued customer satisfaction that we provide to our greatest asset (our customers). We would appreciate the opportunity to be placed on your company' s bidders/vendors list and be considered for any upcoming electrical projects. References will be provided upon request. We look forward to hear from you and having the opportunity to provide you with our outstanding services. Read more...
Copyright © 2014 Mapleleaf Electric Inc. All rights reserved.
ECRA/ESA 7005787